Co-living with friends, Part 1: Co-buying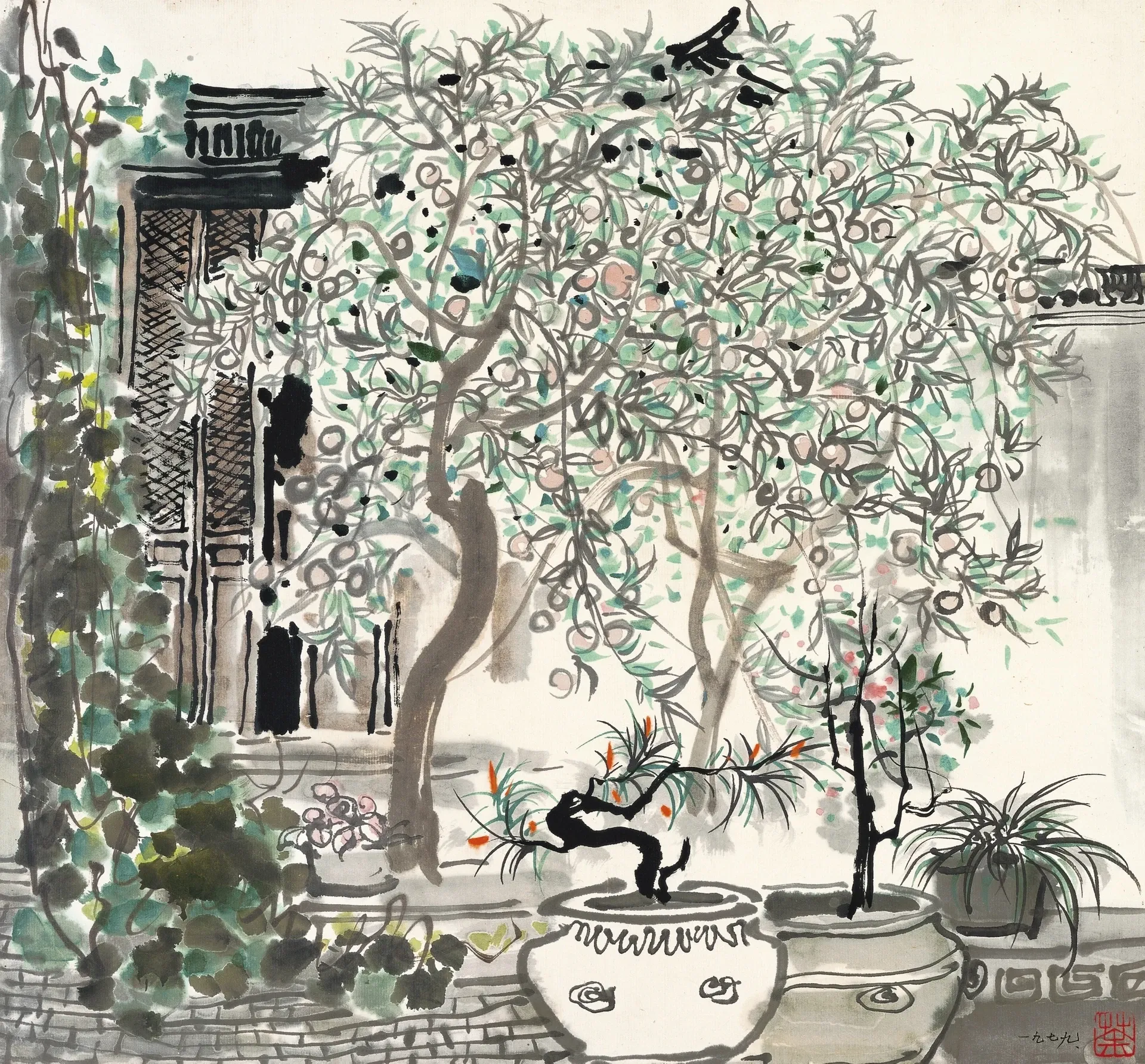 Hello,

Thank you for taking the time to consider our offer. We are four very good friends who want to make 123 Street our home, where we can start and raise our families together in a dynamic, nurturing, and intentional community.

[…]

More than anything, the past year has truly emphasized to all of us the importance and need for in-person community. Together, connected by shared interests and history, we want to be more intentional in building community for us, for those around us, and for our future young families.

—Excerpt from our Letter to the Sellers, 2021
Earlier this year, my partner and I decided to buy a single family house with another couple, two of our closest friends. Before then, if I heard the term "co-living" I'd instantly think of roommates living under the same roof, sharing rent, Friends style. You know, everyone together, dancing around with 90s hair… you can see the visual. But I quickly learned that there are many ways to "co-live" as an adult.
According to Supernuclear, the most common thing that makes co-living different from just living with roommates is intentionality: "We're choosing to live together not for convenience or cost savings, but because we want to live communally." There are co-owned compounds of young families, co-rented communities of single friends, and ephemeral multi-month gatherings of nomads. All constitute some version of intentional co-living.
Our version of "supernuclear" is bringing two families together (in our case, two couples with a desire to have kids soon), super-powering the nuclear family. Our intention was (and still is!) to create the soft infrastructure necessary to enable our family lives to be healthier and happier than as a single atomized unit on our own. While we did buy our house it's not a requirement. For us though, owning our place allows us to tune the space to our needs; the added risk of ownership was one we were willing to take.
So for the interested, here's a peek into that process. Part 1 will recap our process of co-buying property together in the San Francisco Bay Area, and Part 2 will dig into our experience living together for almost a year. While I've structured these two pieces chronologically, it's important to remember: the true effort and value is in co-living not just co-buying. Co-buying is a good test to affirm the group's ability to live together, but it is in the living that the real value arises. We're still early on in our journey, but we hope that our lessons thus far offer some good fodder for others on a similar adventure.
---
Origins
To be honest, the real reason co-buying first caught our attention was affordability. As individual couples, we had looked at virtually every single family home in the East Bay, our desired area to live. Nothing seemed within reach or worth the gobsmacking sums of money. One couple had even considered moving to remote Mendocino as an alternative, but the childcare with two parents working and no family nearby seemed insurmountable. On an evening in early December 2020 we went on a group walk. The Bay Area was shutting down due to a winter peak of COVID, and we wanted to spend some time together outdoors before retreating to our own solo holidays at home. As we meandered, our casual discussion turned into one of disappointment, each side lamenting that buying a house in the area seemed impossible. Only some sort of creativity would prevail.
Soon after we said our goodbyes, one member of the group texted a novel idea: what about buying a place together?Attached to the message was a link to a shared compound that had been sitting on the market for quite some time. This immediately piqued interests. We all hopped on a Zoom call right away to imagine the possibilities.
Looking back, we call this period a trial run (serving as the wee little lie in this Supernuclear post), although we took it much more seriously than that. In fact, we took it so seriously that we made an offer on the suggested place and had entered at least a week into the inspection period by January 1st! It was during that contingency period— we highly recommend taking every advantage of it— that we learned some insightful news. The 2-block radius in which the shared compound was located was moving 1-inch per year due to an active landslide. Not a good investment decision! We promptly backed away from the offer.
(Takeaway: We highly recommend simulating a trial run, although perhaps less seriously than we did. And definitely make sure there's a decent inspection contingency period built into your offer, too.)
We learned a lot in that exercise: the house buying process is a steep learning curve. But beyond that, we realized we four worked incredibly well as a team. The trial run validated that we could work well together, make tough decisions, and still have a great time throughout. The cooperation required also affirmed how we would work together once we moved past the co-buying stage into the more important one: co-living.
Just a week after backing away from our original offer, we were ready to try again.
Co-buying
Our second time around, we were more intentional about building community from the start. The more we had thought about living in a dynamic and nurturing community, the more we realized it was the best way to start our new families. We expanded our search to look at all types of properties: multi-tenant units, single family homes with enough land area to build an ADU, even wild hillsides to construct two prefab units. We also knew we'd need to be more aware of possible environmental hazards; we weren't selecting a home on an active landslide again!
But the same issue of fierce market competition remained and we knew we'd need to be creative. The first property we tried during our "trial run" had been a compound of two smaller cottages (each with a simple kitchenette) and one larger communal space with a much bigger kitchen and living room. During that first run, we had gotten comfortable with the idea of sharing a communal kitchen and living room. So why not continue that theme, and try to co-buy a single family home?
We realized our best bet was to find the weirdos: properties that sat outside of the typical supply and demand curve; properties that were not subject to the competitive craze. Maybe it was a little too big, or needed a lot of work. Maybe the design was less with the times, or it had a weird and spooky backstory. We'd have more luck if we could locate these diamonds in the rough, and make them our own.
As part of our house hunting process, we also spent a lot of time describing to each other what our ideal place would look like. This necessarily included conversations like how many repairs we were willing to take on (DIY or otherwise), how much personal space each family would need, and how we would manage shared spaces. Timeline expectations were a critical point of discussion, too. We all agreed that this would not be our "forever" home, i.e. not a place we'd retire in, but one we planned to happily live in on a 5 to 10-year timeline.
A couple months into our hunt, we finally found the right weirdo, one that could be ours. This one both needed work and had a weird backstory. Although I was personally wary at first (it needed a LOT of work and it was a pretty strange backstory, too!), the other three had a vision and were able to convince me. (This was a feature not a bug; the others listened to my concerns while still confidently painting an optimistic yet pragmatic vision of what could be possible. I could always do with more of that in my life!) With a place finally in mind it also became easier to discuss specifics of our future co-living situation. For example, we could use the Matterport virtual 3D model to talk about how we would use the space. It also became more clear how much effort we'd need to exert in renovations, and we could be more specific about what type of work we could do ourselves (spoiler alert: we wanted to do a lot of it).
This post won't go into specific details about the house buying process. There are other places to learn about that (definitely check out this co-buying guidance from Supernuclear), and rules and allowances will be unique to each city and county… but we encourage the co-living-desirous to remain open-minded and creative.
As we began to make an offer on our desired house, we also refined our plans around how we would live communally. We already started to discuss this with our first trial, and continued to iterate on it during the house hunting process, but now was the time for further refinement. (Note that– beyond your capital budget– you don't need to have this all ironed out before you make your initial offer. If/when your offer is accepted, you can utilize your inspection contingency period for this refinement, too.)
Here's what we did:
Financials. Together, we closely modeled our financials— What was our true budget for a down payment, mortgage, tax, and insurance payments, and annual renovations? (We already had confidence in each other's financial standing from an earlier exercise in transparency of income, savings, debt, and credit scores.)
Legal. We began working on a contract between the four of us… what were our options for exit? How would we handle worst case scenarios, like the death of a member, divorce of a couple, or the need to kick a member out? (Keep in mind, a contract is intended for use only when the group cannot arrive at a resolution amicably, but the "real talk" conversations that lead to its development bring value of their own.)
Operating. We also took several days to discuss our personal "non-negotiables" with each other in depth. What was absolutely critical to each of us, in our new home? We started writing a constitution as well: how would we make decisions as a group, and how would we amend / make changes to our operating agreements over time?
I cannot stress enough how important it is to discuss as a group how each member will approach specific difficult situations. (Yes, it's likely that my prediction of how I'd respond will vary from how I'll actually respond in the moment... but the discussion is an important step.) We didn't know which exact scenarios we'd run into, but it was important to develop confidence that each member of the group would do their best to handle tricky situations. In many ways, my partner and I found this exercise enlightening— we probably would not have discussed this level of detail with one another, this nature of "hard" situation, had it not been for being part of a larger team. These conversations surfaced and accelerated topics that we as a couple had not yet talked through, and probably (incorrectly) presumed alignment on. It was a very worthwhile exercise.
After the usual back and forth of the house buying process, the last minute decisions, counters, and concessions, finally the moment came: we became new homeowners, four tenants in common. We were able to buy our desired weirdo without major complication and anxiety-inducing competition. Sure, we were not conventional buyers. But we were lucky that our real estate agent and mortgage lender didn't bat an eyelash at our arrangement, nor did we run into complications with the county. I know this is not the case for everyone.
Conclusion
One of our biggest takeaways from the co-buying process, beyond the validation that "This just might work!" was the power of diverse skill sets as part of one's team. During the process, our individual superpowers came to fruition. One member was a whiz at legal considerations, another at detailed project management. One member made rigorous financial calculations, while another thought deeply about the how of our group decision making. Our superpowers were even more powerful when they balanced one another: for example, the power of realism / thinking through worst case scenarios balanced by the power of visionary optimism and humor. While we didn't seek out these characteristics in our small group expressly, I think we inherently knew this diversity was there. As a result, our outputs as a team did not feel linear, but rather superlinear when we all worked together.

Still, co-buying is the easy part. Co-living is the more difficult— and worthwhile— endeavor. To hear about that, though, you'll need to read Part 2…
---
Frameworks & FAQs (Pending)
Over the next couple weeks, I'll add frameworks and FAQs that will hopefully be useful to others embarking on a similar co-buying and co-living journey. Watch this space for more!